We developed the Lifeina products because we needed them for our personal use, so we really love our products and make sure that they are as perfect as possible. But we haven't yet found a universal solution that makes one product absolutely perfect for all types of travel. Sometimes we use one of our isothermal bags, sometimes the LifeinaBox fridge, sometimes a combination of both. 
We have very few quality problems, and most problems are caused by a wrong utilization of a product. So here are a few guidelines for using the Lifeina products properly and what to do in case you have a problem.
LifeinaBox
LifeinaBox is a miniature fridge that is designed to be plugged in permanently for storing your medication at the right temperature. It has a built-in 6-hour emergency battery in case of power failures. We did not design LifeinaBox for actual transport of medication. It is more for use at home, in the office, or your hotel room. Although it is possible to move it, generally it is much easier to use one of our isothermal bags to travel, and to then plug in the LifeinaBox fridge when you have arrived at your destination. Airplane power plugs do not give enough power to recharge your LifeinaBox.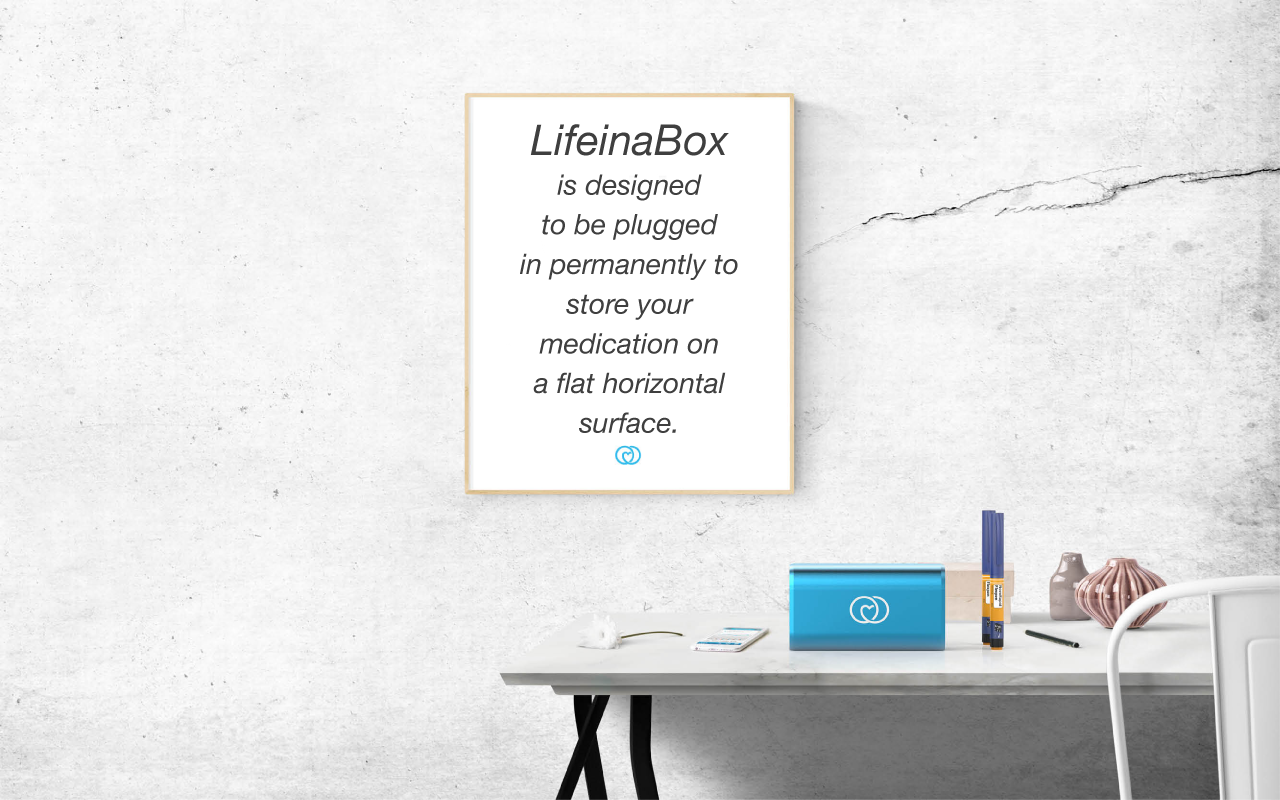 The ideal position for LifeinaBox

If you are however going to travel with LifeinaBox, then you should absolutely use the LifeinaTravel transport bag and hang it on your shoulder or from the back of a car seat, to make sure that the bottom fan is not blocked.
Variations in temperature
When you are moving the LifeinaBox you will often have variations in temperature as it is constantly adapting to changing humidity and ambient temperature. LifeinaBox always needs enough breathing space under the device for the air to circulate. Users who take their LifeinaBox in a car often place it on an uneven surface or on a carpet, thus inhibiting the flow of air under the device. If they place it on a carpet, dust from the carpet will be sucked in by the fan and will eventually block the fan, causing the device to overheat.
If you hear your fan making a funny sound, or the device is beeping continuously, or the temperature is no longer between 2 and 8°C, it means that your LifeinaBox fan is obstructed, and you then need to send your device back to Lifeina, at your cost, to have us overhaul your device. This overhaul is free and we will send the device back to you within 24 hours but you will be responsible for send the device to us at your own cost.
You can just send the device by normal mail, without the cables or accessories, directly to the Lifeina office in France at the following address, making sure that you include your order details and return address in the parcel (send us an email at [email protected] to validate the return and contact the Lifeina team for return information).
Lifeina
6 rue de Castellane, 75008, Paris, France,
Tel : 01 42 66 15 59
Mail: [email protected]

General Return & Refund Policy


What is my withdrawal period?
You can return most of our products in their original packaging, within 14 days of the delivery date for a full refund provided as long as they have not been used.
Can I exchange an item?
If you change your mind or the product does not suit you, we will be very happy to exchange to another product depended on the value of the product. Please note, however, that you will be responsible for the return shipping costs. Simply send us an email at [email protected] to validate the exchange and send the product back to:
Lifeina
6 rue de Castellane, 75008, Paris, France,
Tel : 01 42 66 15 59
Mail: [email protected]
How do I return my item?
You have the possibility to choose the transport of your choice in order to return the product to our premises. However, we advise you to choose a tracked shipment to avoid any misplaced package. We will only be able to reimburse you or repair the product once we have received the product. Cost of returning the product is for the user, and we will take over the cost of sending the product back to you.
Products must be in their original packaging and include a copy of the invoice.
Returns should be sent to:
Lifeina
6 rue de Castellane, 75008, Paris, France,
Tel : 01 42 66 15 59
Mail: [email protected]
Will I have to pay for my return?
Unfortunately, we do not pay for the return shipping costs in case of withdrawal by the customer or misuse of the product.
If the return concerns a damaged product within the guarantee period, it is the responsibility of the user to send us back the device at their own cost. We will then repair the product and send it back to you at our own cost after the product has been received.
If the return concerns an order mistake by us, we will bear the return costs and send you a prepaid return slip and instructions. 
When will I be reimbursed?
 Once the return has arrived at our premises, we will conduct an inspection to verify the condition of the concerned product and issue a refund according to the original payment method.
We issue refunds on the same day as the inspection is finished. However, it may take up to 7 business days depending on the bank to see the refund appear in your account.
Please note that delivery charges will not be reimbursed. 
How do I know that my return has been received?
We always advise you to use a tracking system when you send us back a product. You can then check the progress of your return until it is received by our team.
You can also send us an email at [email protected] to check if the return has been received. We will always try to answer you as soon as possible.